Theo tin Sirius XM Holdings Inc. hay prnewswire.com
Pandora LIVE giới thiệu Siêu sao nhạc pop toàn cầu Dua Lipa
Sự kiện ảo kết thúc vào năm 2020
Được tổ chức bởi SiriusXM's Mikey Piff
TIN TỨC do
Sirius XM Holdings Inc.
Ngày 15 tháng 12 năm 2020, 10:00 ET
CHIA SẺ BÀI VIẾT NÀY
OAKLAND, California, ngày 15 tháng 12 năm 2020 / PRNewswire / – Pandora đã thông báo hôm nay rằng Dua Lipa sẽ biểu diễn cho sự kiện ảo Pandora LIVE cuối cùng trong năm vào ngày 22 tháng 12 lúc 9:00 tối theo giờ ET / 6:00 tối theo giờ PT. Pandora LIVE là phần tiếp theo của chuỗi chương trình ảo nổi tiếng của dịch vụ phát trực tuyến có các nghệ sĩ hàng đầu thuộc mọi thể loại, bao gồm đồng quê, rock, R&B và hơn thế nữa. Trả lời cho sự kiện miễn phí TẠI ĐÂY.
Mikey Piff của SiriusXM's Hits 1 (ch. 2) sẽ tổ chức buổi tối với cuộc phỏng vấn chuyên sâu với Dua và trò chơi "The Hot Seat", nơi Dua sẽ được hỏi về sự nghiệp của cô ấy.
Pandora LIVE để giới thiệu Siêu sao nhạc pop toàn cầu Dua Lipa
Tweet cái này đi
Một số thính giả hàng đầu của Dua trên Pandora sẽ có cơ hội tham gia một cuộc gặp gỡ và chào hỏi ảo trước buổi biểu diễn cũng như tham gia vào các câu đố tương tác trước chương trình, nơi họ có thể kiểm tra kiến ​​thức của mình về nghệ sĩ. Trong suốt chương trình, người hâm mộ cũng sẽ có thể chụp ảnh tự sướng trong gian hàng ảnh ảo, được giảm giá và ủng hộ một sáng kiến ​​từ thiện quốc gia. Một số lượng giới hạn hàng hóa miễn phí của nghệ sĩ sẽ có sẵn cho những người tham dự trên cơ sở quy đổi mã đến trước, được phục vụ trước. Ngay sau chương trình, người hâm mộ sẽ được mời tham gia bữa tiệc hậu ảo chính thức trên Instagram Live, do nam diễn viên kiêm ca sĩ James Maslow tổ chức. Họ cũng sẽ có thể xem Pandora Live: Backstage với đài Dua Lipa, với phần bình luận của chính Dua cũng như các bài hát trình diễn trong chương trình.
"Tôi muốn đi lưu diễn album mới và gặp gỡ người hâm mộ tận mắt", Dua nói, "Tôi rất biết ơn vì chúng tôi vẫn có thể cùng nhau tham gia một đêm vui vẻ và khiêu vũ nhờ Pandora. Hy vọng bạn Tất cả đều thích thú và không thể chờ đợi để sớm gặp lại các bạn trên đường. "
Siêu sao nhạc pop toàn cầu Dua Lipa đã phát hành Future Nostalgia, album thứ hai của cô, trong năm nay để được toàn thế giới hoan nghênh. Đây là một trong những album được đánh giá tốt nhất năm 2020 và đứng trong top 5 của Bảng xếp hạng Album Billboard 200. Đĩa đơn chính "Don't Start Now" có hơn 105 triệu lượt phát trực tuyến trên Pandora và phá kỷ lục cá nhân của cô ấy trong nhiều tuần ở vị trí số 1 trên đài phát thanh Top 40 Hoa Kỳ. Dua tiếp nối thành công của "Don't Start Now" bằng cách phát hành Top 40 # 1 tại Mỹ "Break My Heart". Cô ấy là người chiến thắng giải thưởng GRAMMY năm 2019 cho Nghệ sĩ mới xuất sắc nhất và Bản ghi âm vũ đạo xuất sắc nhất và hiện đang được đề cử cho sáu giải GRAMMY năm 2021 bao gồm Album, Bài hát và Bản thu âm của năm.
Pandora LIVE to Feature Global Pop Superstar Dua Lipa
Virtual Event to Close Out 2020
Hosted by SiriusXM's Mikey Piff
Pandora Logo (PRNewsfoto/Pandora)
NEWS PROVIDED BY
Sirius XM Holdings Inc.
Dec 15, 2020, 10:00 ET
SHARE THIS ARTICLE
OAKLAND, Calif., Dec. 15, 2020 /PRNewswire/ — Pandora announced today that Dua Lipa will perform for the final Pandora LIVE virtual event of the year on December 22nd at 9:00pm ET / 6:00pm PT. Pandora LIVE is the continuation of the streaming service's popular virtual series that features top artists from all genres, including country, rock, R&B and more. RSVP for the free event HERE.
Mikey Piff of SiriusXM's Hits 1 (ch. 2) will host the evening featuring an in-depth interview with Dua and game of "The Hot Seat" where Dua will be quizzed about her career.
Pandora LIVE to Feature Global Pop Superstar Dua Lipa
Tweet this
Some of Dua's top listeners on Pandora will have the opportunity to participate in a virtual meet and greet prior to the show and participate in interactive pre-show trivia where they can test their knowledge about the artist. During the show, fans will also be able to snap a selfie in the virtual photo booth, receive discounts, and support a national charity initiative. A limited amount of complimentary artist merchandise will be available for attendees on a first-come, first-served code redemption basis. Immediately following the show, fans will be invited to join the official virtual after-party on Instagram Live, hosted by actor and singer James Maslow. They will also be able to check out the Pandora Live: Backstage with Dua Lipa station, featuring commentary from Dua herself as well as the performance tracks from the show.
"As much as I want to be touring my new album and seeing my fans in person," says Dua, "I'm grateful we're still able to join together virtually for a night of fun and dancing thanks to Pandora. Hope you all enjoy and can't wait to see you out on the road very soon."
Global pop superstar Dua Lipa released Future Nostalgia, her sophomore album, this year to worldwide acclaim. It is one of the best-reviewed albums of 2020 and debuted in the top 5 of the Billboard 200 Album Chart. Lead single "Don't Start Now" has over 105 million streams on Pandora and broke her personal best record of weeks at #1 on US Top 40 radio. Dua followed her "Don't Start Now" success by releasing her US Top 40 #1 "Break My Heart." She is a 2019 GRAMMY award winner for Best New Artist and Best Dance Recording and is currently nominated for six, 2021 GRAMMYs including Album, Song and Record of the Year.
About SiriusXM
Sirius XM Holdings Inc. (NASDAQ: SIRI) is the leading audio entertainment company in the U.S., and the premier programmer and platform for subscription and digital advertising-supported audio products. Pandora, a subsidiary of SiriusXM, is the largest ad-supported audio entertainment streaming service in the U.S. SiriusXM and Pandora's properties reach more than 150 million listeners, the largest addressable audience in the U.S., across all categories of digital audio – music, sports, talk, and podcasts. SiriusXM's acquisitions of Stitcher and Simplecast, alongside industry-leading ad tech company AdsWizz, make it a leader in podcast hosting, production, distribution, analytics and monetization. SiriusXM, through Sirius XM Canada Holdings, Inc., also offers satellite radio and audio entertainment in Canada. In addition to its audio entertainment businesses, SiriusXM offers connected vehicle services to automakers. For more about SiriusXM, please go to: www.siriusxm.com.
About Pandora
Pandora, a subsidiary of SiriusXM, is the largest ad-supported audio entertainment streaming service in the U.S. Pandora provides consumers a uniquely-personalized music and podcast listening experience with its proprietary Music Genome Project® and Podcast Genome Project® technology. Pandora is also the leading digital audio advertising platform in the U.S. Through its own Pandora service, its AdsWizz platform, and third party services, such as SoundCloud, the Company connects brands to the largest ad-supported streaming audio marketplace in the country. Pandora is available through its mobile app, the web, and integrations with more than 2,000 connected products.
This communication contains "forward-looking statements" within the meaning of the Private Securities Litigation Reform Act of 1995. Such statements include, but are not limited to, statements about future financial and operating results, our plans, objectives, expectations and intentions with respect to future operations, products and services; and other statements identified by words such as "will likely result," "are expected to," "will continue," "is anticipated," "estimated," "believe," "intend," "plan," "projection," "outlook" or words of similar meaning. Such forward-looking statements are based upon the current beliefs and expectations of our management and are inherently subject to significant business, economic and competitive uncertainties and contingencies, many of which are difficult to predict and generally beyond our control. Actual results and the timing of events may differ materially from the results anticipated in these forward-looking statements.
The following factors, among others, could cause actual results and the timing of events to differ materially from the anticipated results or other expectations expressed in the forward-looking statements: the current coronavirus (COVID-19) pandemic is adversely impacting our business; our substantial competition that is likely to increase over time; our efforts to attract and retain subscribers and listeners, or convert listeners into subscribers, which may not be successful, and may adversely affect our business; our Pandora ad-supported business has suffered a loss of monthly active users, which may adversely affect our Pandora business; privacy and data security laws and regulations may hinder our ability to market our services, sell advertising and impose legal liabilities; we engage in extensive marketing efforts and the continued effectiveness of those efforts are an important part of our business; consumer protection laws and our failure to comply with them could damage our business; a substantial number of our Sirius XM subscribers periodically cancel their subscriptions and we cannot predict how successful we will be at retaining customers; our ability to profitably attract and retain subscribers to our Sirius XM service as our marketing efforts reach more price-sensitive consumers is uncertain; our failure to convince advertisers of the benefits of our Pandora ad-supported service could harm our business; if we are unable to maintain revenue growth from our advertising products, particularly in mobile advertising, our results of operations will be adversely affected; if we fail to accurately predict and play music, comedy or other content that our Pandora listeners enjoy, we may fail to retain existing and attract new listeners; if we fail to protect the security of personal information about our customers, we could be subject to costly government enforcement actions and private litigation and our reputation could suffer; interruption or failure of our information technology and communications systems could impair the delivery of our service and harm our business; we rely on third parties for the operation of our business, and the failure of third parties to perform could adversely affect our business; our business depends in part upon the auto industry; our Pandora business depends in part upon consumer electronics manufacturers; the market for music rights is changing and is subject to significant uncertainties; our ability to offer interactive features in our Pandora services depends upon maintaining licenses with copyright owners; the rates we must pay for "mechanical rights" to use musical works on our Pandora service have increased substantially and these new rates may adversely affect our business; failure of our satellites would significantly damage our business; our Sirius XM service may experience harmful interference from wireless operations; failure to comply with FCC requirements could damage our business; economic conditions, including advertising budgets and discretionary spending, may adversely affect our business and operating results; if we are unable to attract and retain qualified personnel, our business could be harmed; we may not realize the benefits of acquisitions or other strategic investments and initiatives, including the acquisition of Pandora; our use of pre-1972 sound recordings on our Pandora service could result in additional costs; we may from time to time modify our business plan, and these changes could adversely affect us and our financial condition; we have a significant amount of indebtedness, and our debt contains certain covenants that restrict our operations; our facilities could be damaged by natural catastrophes or terrorist activities; the unfavorable outcome of pending or future litigation could have an adverse impact on our operations and financial condition; failure to protect our intellectual property or actions by third parties to enforce their intellectual property rights could substantially harm our business and operating results; some of our services and technologies may use "open source" software, which may restrict how we use or distribute our services or require that we release the source code subject to those licenses; rapid technological and industry changes and new entrants could adversely impact our services; existing or future laws and regulations could harm our business; we may be exposed to liabilities that other entertainment service providers would not customarily be subject to; our business and prospects depend on the strength of our brands; we are a "controlled company" within the meaning of the NASDAQ listing rules and, as a result, qualify for, and rely on, exemptions from certain corporate governance requirements; while we currently pay a quarterly cash dividend to holders of our common stock, we may change our dividend policy at any time; and our principal stockholder has significant influence, including over actions requiring stockholder approval, and its interests may differ from the interests of other holders of our common stock. Additional factors that could cause our results to differ materially from those described in the forward-looking statements can be found in our Annual Report on Form 10-K for the year ended December 31, 2019 and Quarterly Report on Form 10-Q for the quarter ended March 30, 2020, which are filed with the Securities and Exchange Commission (the "SEC") and available at the SEC's Internet site (http://www.sec.gov). The information set forth herein speaks only as of the date hereof, and we disclaim any intention or obligation to update any forward looking statements as a result of developments occurring after the date of this communication.
Source: SiriusXM
Media contact:
Heidi Anne-Noel
Hanne-noel@pandora.com
SOURCE Sirius XM Holdings Inc.
Related Links
http://www.siriusxm.com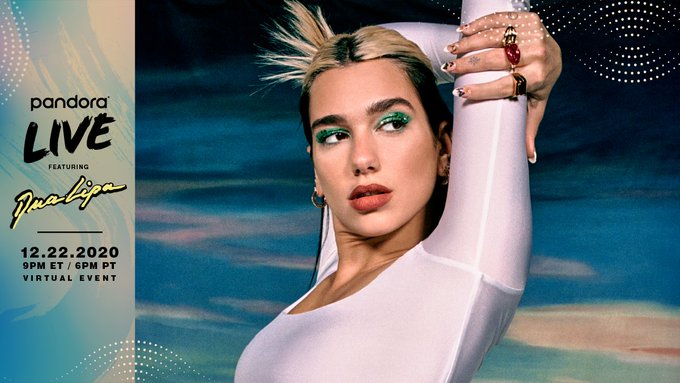 https://www.prnewswire.com/news-releases/pandora-live-to-feature-global-pop-superstar-dua-lipa-301192314.html